Tahko Zipline
Open year-round!
View on maps
Tahko Zipline
Pehkuntie 457
73310 TAHKOVUORI
tahkozipline@tahko.com
---
Company opening hours
Today: 11:00 - 16:00
18.07.2023-30.12.2023
Mon, Sun closed
Tue, Wed, Thur, Fri, Sat klo 11:00-16:00
Show all
The longest zipline in Finland, spanning across the lake from the top of Tahko ski resort area
Tahko has unveiled Finland's longest zipline, with the zip track extending from the top of Tahko's ski resort area over Lake Syväri to Piazza corner.
This thrilling new activity is open year-round and operated by SeikkailuKuopio Ltd.
The zipline's starting platform, also known as the launch deck, is located south of Pehkubar next to Joke Street, while the landing platform is situated near Tahko bridge at Piazza's corner. The elevation difference between the starting and landing platforms is approximately 140 meters, and riders can reach speeds of up to 50 km/h while gliding downwards 6 to 40 meters above the water surface.
There are no structures between the upper and lower platforms; only two parallel cables provide support. This allows for smooth gliding and enables two individuals to descend almost simultaneously.
Please note that weather conditions, such as strong winds, thunderstorms, heavy rain, or extreme cold, may affect the opening hours. For any potential exceptions, please refer to Tahko Zipline's Facebook page. The staff is also flexible in accommodating groups outside of regular opening hours.
Tahko Zipline was supplied by a German-Swiss company that has constructed numerous similar ziplines across Europe.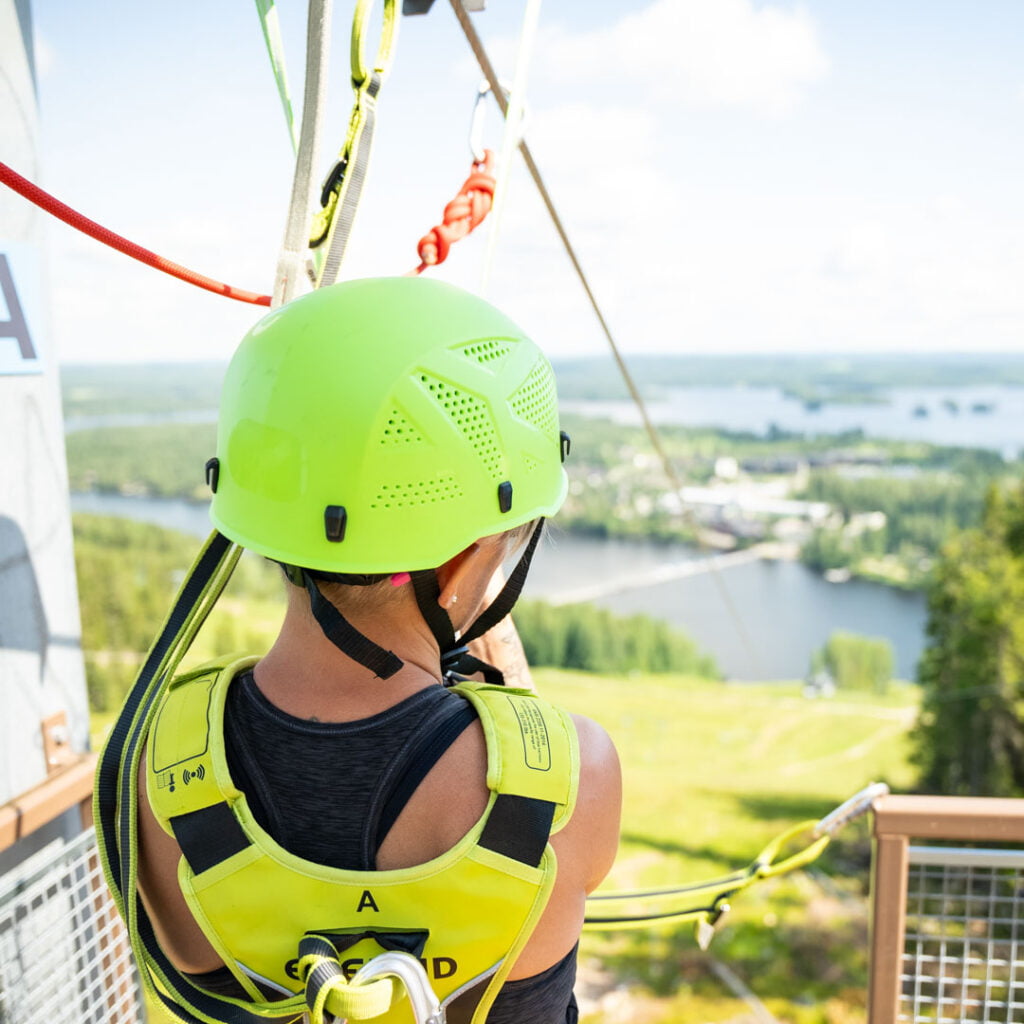 Tahko Zipline prices
The prices include guidance, safety equipment, and the zipline ride from the top to the bottom.
Individuals
49€ per person
For the zipline's starting platform, you can also arrive on a walk-in basis during opening hours, and the experience can be paid on-site
Groups
Group bookings and inquiries:
Combine with meals, transportation, accommodation, anything you need from Tahko – ask for more information!
Who can ride?
The track is suitable for all individuals weighing between 40kg to 120kg, from juniors to adults. Weight restrictions ensure a safe adventure for all participants.
During opening hours, individuals can ride alone, in pairs, or with larger groups. Groups also have the option to book the experience outside of regular hours, including during dusk/dark conditions.
At the starting platform, each customer is equipped with a full-body harness and attached to the zip trolley, which automatically slows down when necessary. Additionally, the landing platform is equipped with automatic brakes, ensuring a safe descent and allowing users to fully enjoy the journey.
Initially, equipment is available for groups of approximately 100 people at a time. Around 25 people can descend per hour.
Tahko Zipline does not have a specific blood alcohol concentration limit but due to the safety considerations involved in the experience, it is best enjoyed without alcohol.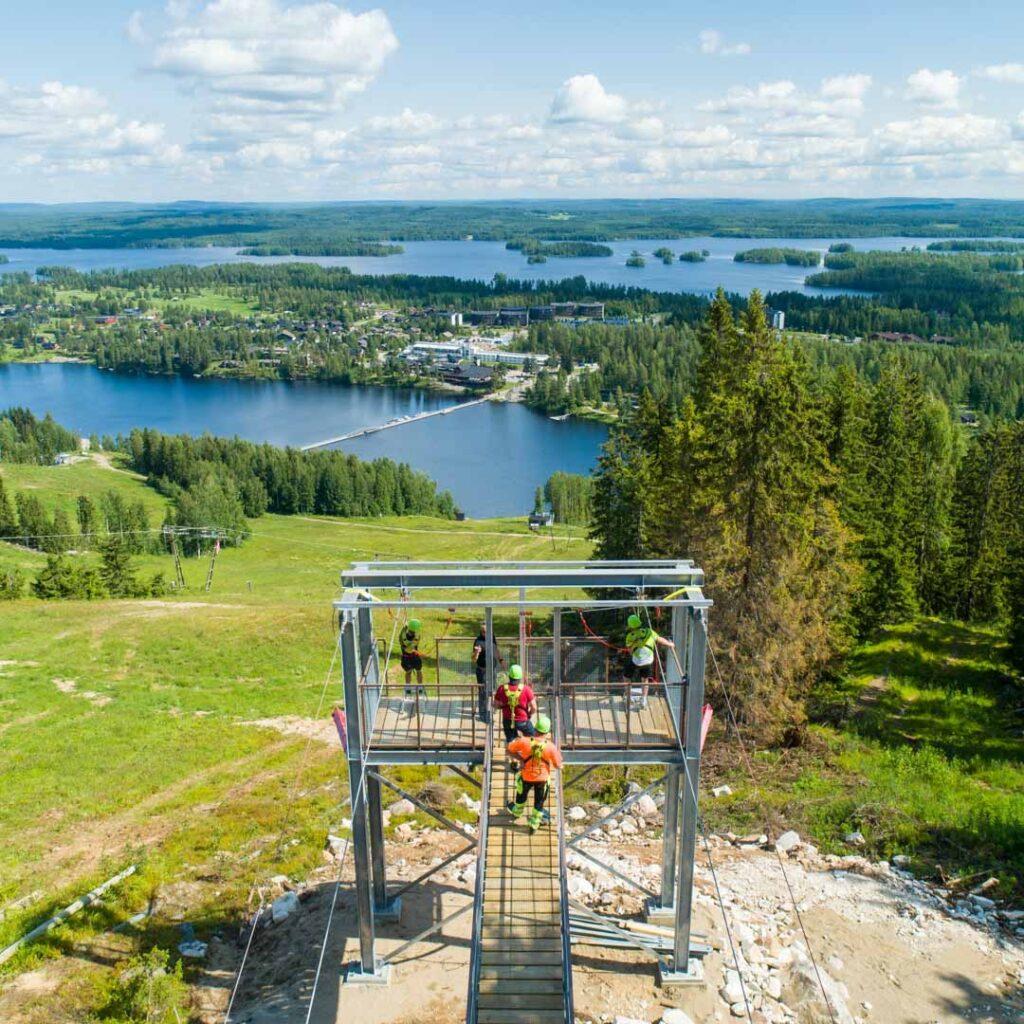 Tahko Zipline location
How to get to the starting platform?
Tahko Ziplines' starting platform is located near Pehku Bar and Tahko Scenic Tower, at the top of the ski resort area. You can reach the top via the following options:
Hiking through Huutavanholma:

Approximately 1,6 km hike from Huutavanholma gate to the Zipline starting platform. The trail includes stairs, a path, boardwalks, and a significant ascent. Allow around 45-60 minutes for enjoying the views along the way.

Climb the Tahko stairs and walk approximately 650 meters at the top to reach the starting platform
Scenic lift during its opening hours + approximately 1,2 km walk at the top.
By car, bus, or taxi via road Pehkuntie:

You can drive or take a bus or taxi to the Pehku parking area, and then it's a short 150-meter walk to the starting platform.